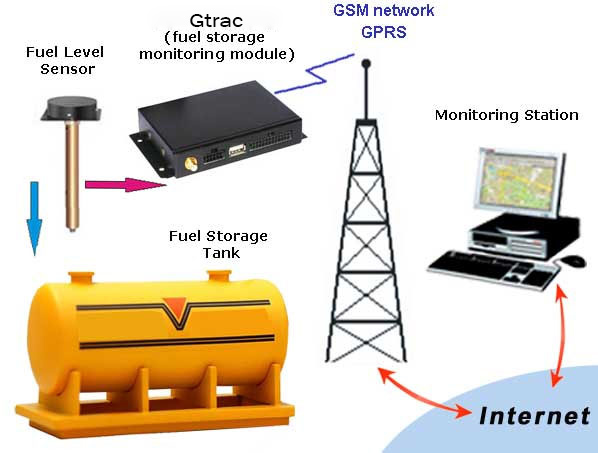 Storage /under-ground tank monitoring solution is designed to monitor, save and optimize fuel related costs. Information about fuel level and consumption is obtained by connecting GPS monitoring solution to on-board computer, and installing fuel level sensor directly in the Storage /under-ground tank.
This solution generates detailed reports which identify personnel who waste company's fuel/diesel and generators that use too much fuel/diesel.
It also shows when diesel tank was filled and when fuel/diesel drain is being done.
FUEL STORAGE TANKS WIRELESS MONITORING (GSM/GPRS):
Day and night automatic remote wireless tank monitoring;
"Real time" monitor fuel level (fuel volume) in fuel tanks;
Store fuel history for each fuel tank;
Visualization fuel level in fuel tanks;
Generate fuel graphs, reports for fuel tanks;
"Real time" monitoring status of additional external sensors;
Fueling and draining monitoring;
All world coverage;
transmitting data by GSM/GPRS network.
FUEL STORAGE MONITORING SYSTEM
Fuel Level Sensor
Safety barrier
Connection cable (safety barrier - main unit);
GPRS Fuel Storage monitoring module
Communication network: GSM/GPRS network and Internet);
WEB Monitoring Service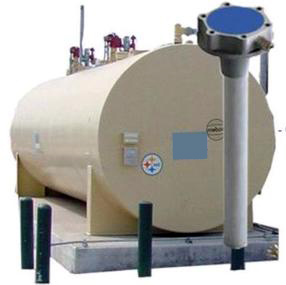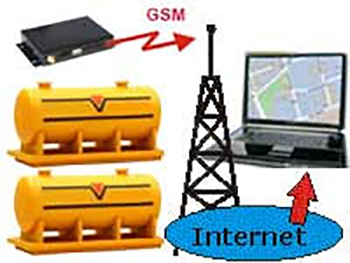 Fuel Monitoring, Fuel Consumption and Fuel Usage Monitoring Features:
Prevents fraud of fuel;
Prevents unauthorized use of fuel;
Provides high-precision measurement of fuel level in a fuel tank;
Gives detailed information about fuel tank fueling and draining;
Gives detailed information about fuel consumption;
Collects and stores information about fuel in tank for detailed analyzing; gives detailed fuel usage history.
Fuel level sensors are connected to monitor PC by connection cable (sensor serial connection).
Fuel level sensors send information to PC by connection cable information about fuel level in fuel tank.
Monitoring software receives this information and stores it in data base.
Based on stored information, monitoring software calculate data and generate necessary graphs, reports etc.